This documentation I am doing is for generations to come, I feel very proud of what I am doing for my people. In time our mamarnjarl (countrymen) will benefit from the work I have done to document the storylines of our people.
- Arts Worker Sherika Nulgit
Dolord Mindi is supported by a growing team of Digital Collection Trainees recruited from Mowanjum Community. Training in collection management addresses community unemployment rates, creates culturally relevant jobs and long-term employment opportunities for community members. Trainees are also able to extend their experience though professional development workshops. These are held locally as well as interstate through art centre, museums and national gallery networks. In 2015 Digital Collection Trainee Sherika Nulgit was a recipient of the 2016 National Film and Sound Archive Indigenous Fellowship.
&nbsp
&nbsp
Every year, Mowanjum facilitates a professional development workshop with a visiting trainer or with Mowanjum Community elders. These workshops are aimed at extending the skills of Mowanjum staff and engaging the broader Kimberley arts and museum community. Past workshops include:
• Advanced Photoshop and Lightroom with Les Walkling 2015
• Harvesting Traditional Knowledge Workshop 2014
• Establishing and Sustaining a Digital Collection with Greg Wallace 2013
&nbsp
Digital Collection Workshop with Greg Wallace 2013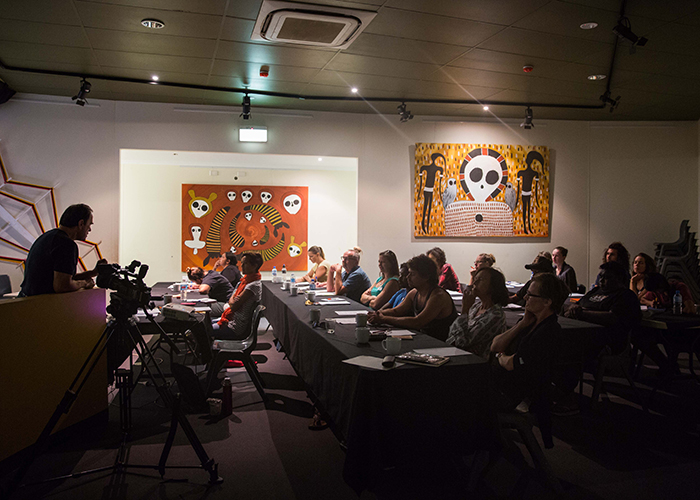 Photoshop & Lightroom Workshop with Les Walkling 2015

CULTURAL ADVISORS
Cultural advisors guide Mowanjum program development as well as processes for managing community collections.
The Mowanjum cultural advisors are elders, community leaders and artists who value the art centre's potential to make positive change in the lives of community members. They are the keepers of ancient knowledge, mentors, teachers and friends. Their continued support is of the greatest importance and is the reason Mowanjum Art Centre projects continue to grow stronger every year.
&nbsp